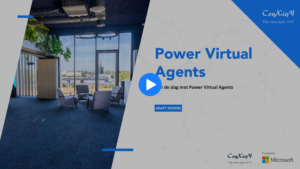 Aan de slag met Power Virtual Agents
Je wil aan de slag met een chat-bot maar weet niet waar te beginnen? Nils Van Butsel, Business Consultant bij ConXioN, neemt je stap voor stap mee doorheen Power Virtual Agents. We maken gebruik van het Microsoft Power Platform waarin we AI-driven chatbots zullen ontwikkelen die geconnecteerd zijn met je realtime bedrijfsdata. Deze data wordt vervolgens overzichtelijk weergegeven in het Power Platform
We nemen je mee doorheen twee praktische demo's:
1. Demo autoverhuur
2. Demo FAQ-bot
Leer zelf hoe je snel een chatbot publiceert op je eigen publieke website en houd op deze manier rechtstreeks contact met je klanten.
Deze sessie is geschikt voor iedereen die de eerste stap naar een geïntegreerde chat-bot wil maken met behulp van het Microsoft Power Platform.
Nog geen account of nog niet ingelogd op ConXioN One? Registreer of log in via het ConXioN One-portaal.