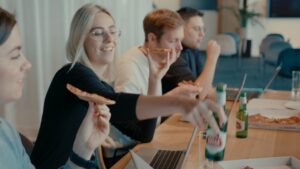 Beers & Pizza: Aruba networking: What's next?
Welcome to the Aruba networking workshop!
Voor velen in HPe Aruba een vaste waarde maar er schuilt meer achter switchen van Aruba dan je denkt. Zoals jullie weten is connectiviteit een essentieel onderdeel van ieder bedrijf en wordt er dagelijks meer en meer van dit onderdeel van de ICT infrastructuur gevraagd.  De basis functionaliteit om data van punt A naar B te sturen moet een evidentie zijn en blijven maar schaalbaarheid, modulariteit, beheersbaarheid en veiligheid zijn even cruciaal. Aruba heeft het allemaal in huis en het is hoog tijd om je Aruba netwerk naar het volgende niveau te tillen en deze mogelijkheden aan de lijve te ondervinden.
Tijdens deze workshop krijgen jullie een actueel overzicht van het hardware als software portfolio van Aruba en hebben we het over de verschillende mogelijkheden die Aruba je biedt van IT over OT om niet alleen je admin maar ook je productie kant verder te optimaliseren en je "business continuity" te garanderen.
Komen aan bod tijdens deze workshop:
HPe Aruba Switching Portfolio Update

HPe Aruba WiFi Portfolio Update

HPe Aruba Software Portfolio Update (Aruba Central, Clearpass,…

HPe Aruba Demo 

Ask the Aruba Professionals!
Absoluut! Schrijf je collega apart in via het registratieformulier op deze eventpagina.