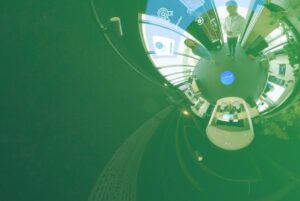 Behind the scenes: Van 360°-video naar de Metaverse
The Metaverse is overal. Onze tijden worden meer en meer digitaal, en organisaties springen massaal op de Extended Reality-kar, voor verschillende redenen. Tijdens dit Beers & Pizza-event laat Maarten Mollie van JIBE je er de ins & outs van ontdekken.
JIBE gelooft niet in verhalen op een ouderwetse manier vertellen, maar creëert met Extended Reality (Augmented Reality/Virtual Reality/Mixed Reality) een meeslepende ervaring voor de gebruiker. Eigenaar, Maarten Mollie, wil deze geavanceerde technologie voor iedereen toegankelijk maken.
Wat is the Metaverse en wat zijn de mogelijkheden ervan? Wat is Virtual Reality (VR) en waarom is het de toekomst? Wat is het verschil tussen normale video en een 360°-video? Wat doe je met je audio wanneer jouw camera 360° opneemt? Deze vragen zal Maarten Mollie tijdens zijn uiteenzetting voor je beantwoorden.
Tijdens de workshop ga je vervolgens samen hands-on aan de slag en ontdek je MR, AR en VR vanop de eerste rij, leer je hoe je 360°-beeldmateriaal kan opnemen en bewerken, en ontdek je alles over Augmented Reality-'portalen' – allemaal met een stuk pizza en een biertje in de hand.
Schrijf je in onder de video!
Absoluut! Schrijf je collega apart in via het registratieformulier op deze eventpagina. 
De reeks Beers & Pizza workshops worden gratis aangeboden door ConXioN. Je hoeft je enkel op voorhand in te schrijven op deze eventpagina.
Kan je er last minute niet bij zijn? Breng ons op de hoogte via events@conxion.be.
Annuleer je je inschrijving op minder dan 24 uur voor de sessie, dan rekenen we een no-show kost aan van 20 EUR.
Hourly Schedule
Agenda
18u00

-

18u15

Aankomst en verwelkoming
18u15

-

18u20

Introductie

Sprekers

Kevin Couvreur
18u20

-

19u00

Metaverse Academy

Wat is the metaverse en wat zijn de mogelijkheden ervan? Wat

Sprekers

Maarten Mollie
19u00

-

20u30

Let's get down to business!

Enter the ConXioN Experience Center in XR!

Sprekers

Maarten Mollie
20u30

-

21u00

Beers & Pizza

Netwerkmoment