ConXioN wint prestigieuze Channel Award 'Best Cloud Reseller'
ConXioN wint prestigieuze Channel Award 'Best Cloud Reseller'
ConXioN behaalde opnieuw een mooie overwinning bij de prestigieuze Channel Awards – de 'Oscars van de IT-wereld'. We werden maar liefst voor het zevende jaar op rij finalist en mogen dit jaar de titel 'Best Cloud Reseller' achter onze naam schrijven. Preus lik fjirtig, zoals we in Deerlijk zeggen!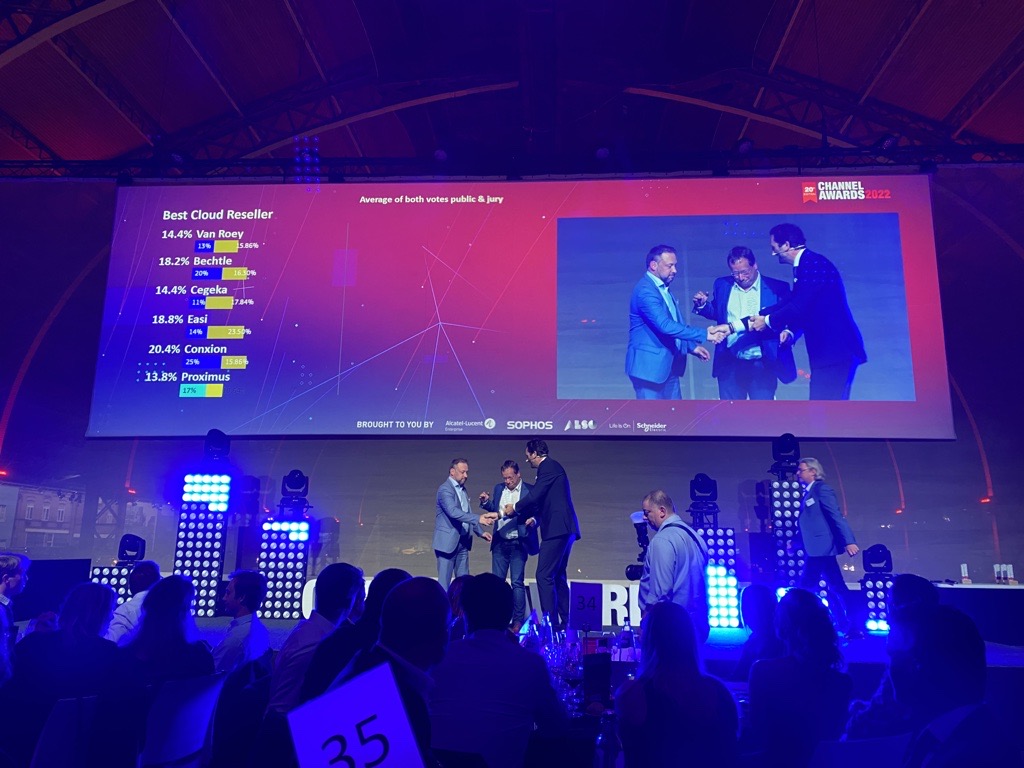 De Channel Awards zijn prestigieuze prijzen die ieder jaar worden uitgereikt aan ICT-distributeurs, -vendoren en -resellers die actief zijn in de Belgische markt. Na een volledig virtuele editie werd de twintigste editie van de Awardshow nu opnieuw in Brussel georganiseerd.  
Voor het zevende jaar op rij behoorde ConXioN tot de finalisten in verschillende categorieën. In 2020, 2017, 2016 en 2015 wonnen wij de Channel Award voor 'Best SMB Reseller', in 2019 voor 'Best Integrator' en in 2018 voor 'Best Innovation & Transformation Reseller'. In 2021 werd ConXioN tweede in zowel de categorieën 'Best B2B Reseller/System Integrator' en 'Best SMB Reseller'. Na een finaleplaats voor zowel 'Best SMB Reseller', 'Best Cloud Reseller' als 'New/Innovative Reseller', zijn we heel trots dat we dit jaar de Award voor 'Best Cloud Reseller' in de wacht sleepten!
Bekroning in jubileumjaar
In 2022 viert ConXioN haar 25-jarig bestaan. Het bedrijf groeide in een kwarteeuw uit tot een bedrijf van ruim 100 medewerkers en heeft ondertussen vestigingen in Deerlijk en Dendermonde, naast een eigen Experience Center, powered by Microsoft, in Waregem. CEO Chris Debyser is dan ook heel blij met deze mooie overwinning(en) in dit bijzondere jubileumjaar. 'Dat onze partners ConXioN opnieuw naar de overwinning stemden, is een mooie erkenning voor ons werk en onze aanpak. De Award is een bekroning voor de investeringen in onze medewerkers', aldus CEO Chris Debyser. 
'ConXioN besteedt veel aandacht aan onderzoek, innovatie en opleidingen. Dat is belangrijk voor de verdere opbouw van onze expertise. Onze mensen zijn dan ook de motor van het bedrijf. Zij maken elke dag mee het verschil en deze Award hadden we niet kunnen binnenrijven zonder hen.'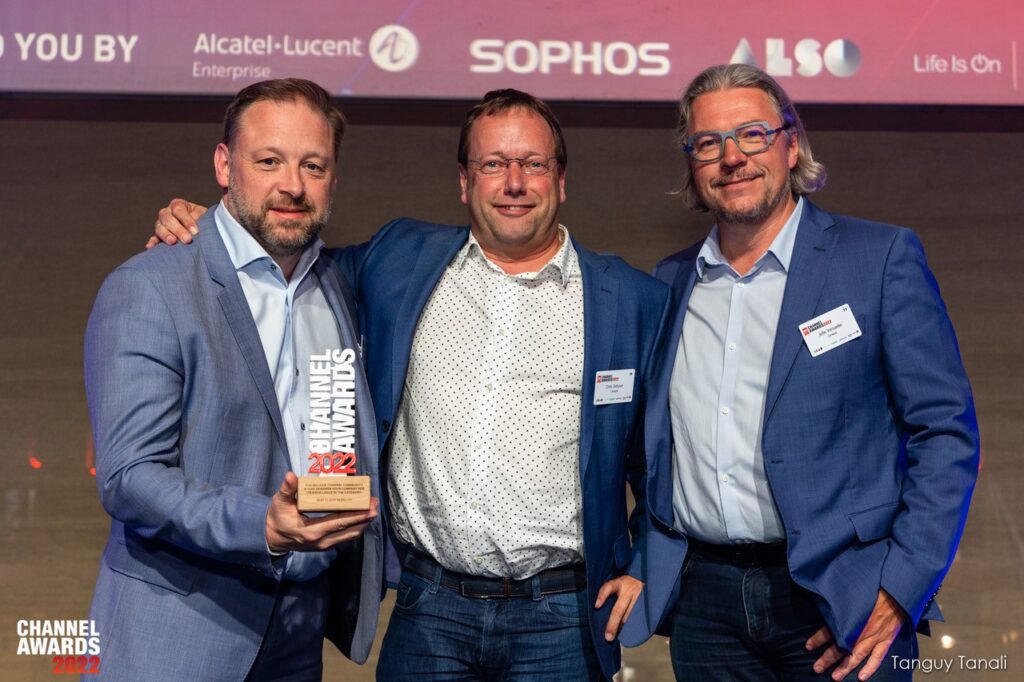 ConXioN - al 25 jaar een succesverhaal
ConXioN begeleidt en inspireert haar klanten in hun digitale transformatie op tal van domeinen zoals infrastructuur, softwareapplicaties, security, cloudinfrastructuur, connectiviteit & mobiliteit, printing en managed services. Dit mede dankzij sterke partnerships met onder andere Microsoft, HP, Hewlett Packard Enterprise, SentinelOne en Cisco, waarmee ConXioN een voortrekkersrol speelt in IT-innovatie en onderzoek. In 2021 werd ConXioN verkozen tot Microsoft Partner of the Year voor België.  
In 2019 opende het ICT-bedrijf het ConXioN Experience Center. Hier kunnen bedrijfsleiders van kleine, middelgrote en grote bedrijven deze 'new style of IT' ervaren en worden ze ondergedompeld in de toekomst van interactieve technologie en duurzaam digitaal ondernemerschap.  
ConXioN is sinds 25 jaar actief in voornamelijk West- en Oost-Vlaanderen maar bedient klanten doorheen heel België. Zij kunnen rekenen op de expertise van een 100-tal medewerkers. ConXioN zet sterke groeiprestaties neer met een omzet van ruim 25 miljoen euro.