SentinelOne Endpoint Protection voorspelt schadelijk gedrag binnen héél de organisatie en elimineert bedreigingen nog voor ze zich voordoen dankzij geautomatiseerde methodes.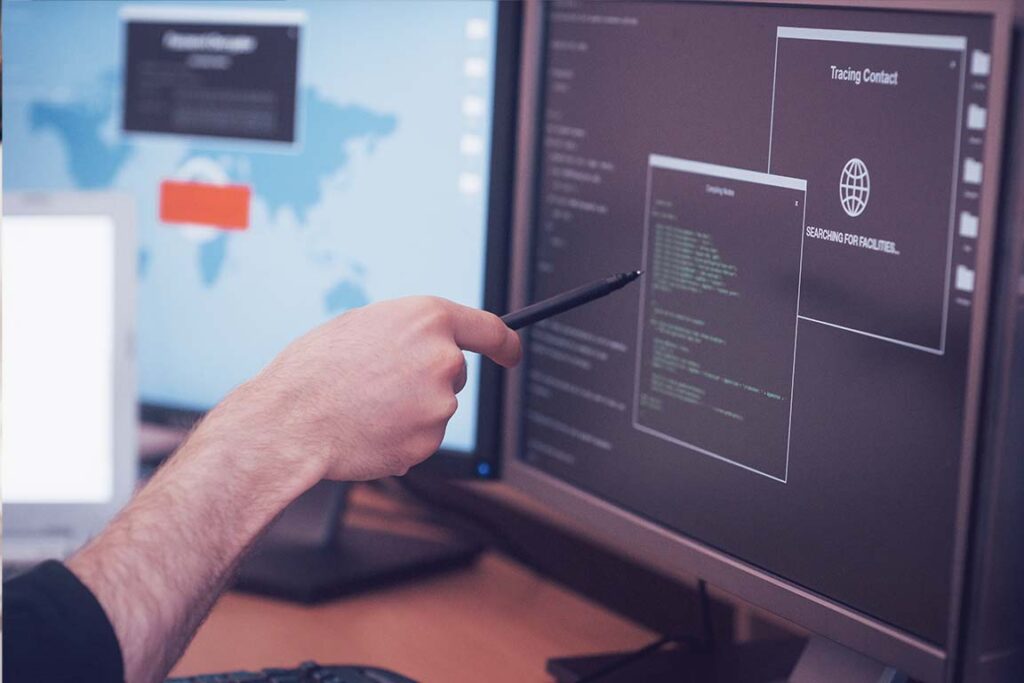 De meest noodzakelijke beveiliging
SentinelOne Endpoint Protection bundelt detectie, bescherming en herstel in één platform. Dankzij Artificiële Intelligentie (AI) en Machine Learning (ML) herkent SentinelOne bedreigingen nog voor de aanval zich voordoet. Hierdoor werkt SentinelOne sneller en doeltreffender dan een standaard antivirus.
In tegenstelling tot een traditionele antivirus kan SentinelOne bedreigingen op laptops, desktops en notebooks veel sneller herkennen en elimineren. In plaats van te zoeken naar iets wat gekend is (een IP-adres, een bekende kwetsbaarheid), analyseert hij verdachte activiteiten op basis van de kenmerken en het gedrag van een bestand of link. Dit stelt beheerders in staat om snel actie te ondernemen om zo verder incidenten te voorkomen binnen heel de organisatie. Ook wanneer beheerders niet aanwezig zijn kan SentinelOne geautomatiseerd ingrijpen binnen de organisatie en bestanden of toestellen in quarantaine plaatsen.
een boost voor jouw bedrijf
Steeds actief en up-to-date
SentinelOne werkt volledig lokaal op het toestel en moet niet verbonden zijn met het internet om schadelijke bestanden en links te detecteren. Je bent dus ook offline altijd beschermd én altijd up-to-date. 
Automatische zero-touch rollback
Detecteert SentinelOne een bedreiging? Dan wordt die in quarantaine geplaatst of verwijderd. Daarnaast zet je jouw omgeving met één druk op de knop terug na een ransomware-aanval.
Op alle toestellen, vanop één platform
SentinelOne kan geïnstalleerd worden op computers met verschillende besturingssystemen: van Windows of MacOs tot zelfs Linux. En die bekijk je samen met je firewall, isolaties, netwerk, integraties… in het centrale dashboard.
is jouw bedrijf wel veilig?
Ontdek hoe u zichzelf kunt beschermen tegen toekomstige aanvallen!
Meer lezen over Security?
Met trots delen we het nieuws dat ConXioN met succes de ISO 27001-certificering voor informatiebeveiliging heeft verworven.
Een actieve Zero-Day kwetsbaarheid zorgt voor extra onrust in het Apple landschap.
ConXioN en partner Club Brugge organiseerden op 7 juni samen de Security Basecamp Clinic in het hypermoderne Belfius Basecamp van Club Brugge. Het event zette het belang van ICT...
Benieuwd naar wat ConXioN voor jouw organisatie kan betekenen?
Meedenken met jouw business is onze core. We adviseren, implementeren en ontzorgen op vlak van IT. Samen bouwen we aan je technologische voorsprong in de markt.