Ontdek de veelzijdigheid van dé centrale collaboratiehub voor projectcommunicatie en teamwork. Blijf steeds up to date met je teams en projectstatussen. Organiseer, deel, vergader, werk en bel samen. Altijd, overal.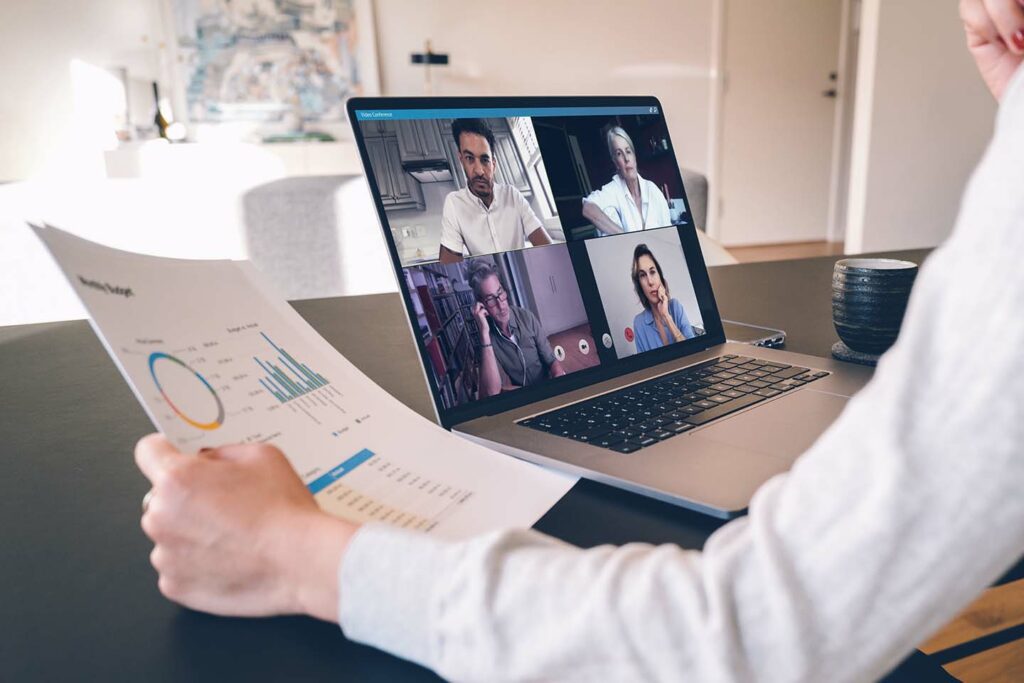 dé centrale hub voor communicatie
Verhoog productiviteit en samenwerking
Microsoft Teams is al lang niet meer enkel de applicatie voor thuiswerk en flexibel werken. Het is dé centrale applicatie voor teamwork, communicatie en samenwerken. Met functionaliteiten voor chatten, vergaderen, (binnen en buiten de organisatie) telefoneren, scherm delen, webinars volgen of organiseren en samen aan bestanden werken, is Teams de ideale keuze voor wie de productiviteit binnen de organisatie wil verhogen.
Microsoft Teams haalt het maximale uit de cloud, en zorgt er zo voor dat iedereen op elk moment en elke locatie met elkaar in verbinding staat. Via de applicatie of vanuit de browser. Zo beschikt iedereen steeds over de laatste updates van projecten, werkgroepen en bestanden, en kunnen ze er zelfs gelijktijdig aan werken. Dit kan met alle applicaties binnen het Microsoft 365-ecosysteem.
ConXioN als Microsoft Teams-partner
ConXioN heeft jarenlange ervaring in digitaal samenwerken, behaalde de officiële Calling for Microsoft Teams Advanced Specialization en organiseert regelmatig sessies over dit topic.
We bekijken samen jouw bedrijfsprocessen en bepalen aan de hand daarvan hoe Microsoft Teams het meest efficiënt kan ingezet worden. Daarnaast trainen we je medewerkers in het gebruik van de tool. Zo haal je het maximale uit je nieuwe investering.
een boost voor jouw bedrijf
Maak per project of werkgroep een kanaal aan om alle communicatie. Je kiest zelf wie toegang krijgt – of het nu gaat om collega's of externen. De chatfunctie vermindert daarnaast intern mailverkeer.
Microsoft Teams maakt achterliggend gebruik van SharePoint. Werkgroepen kunnen dus gelijktijdig aan bestanden werken en beschikken steeds over de laatste versie.
Met Microsft Teams kan je niet alleen chatten, maar ook (video)bellen. Verberg of personaliseer je achtergrond, deel je scherm of verander je presentatiemodus. 
Organiseer eenvoudig webinars en live-events met Microsoft Teams. Bepaal de toegankelijkheid (aantal deelnemers, internen of externen), modereer vragen, presenteer, neem de sessie op…
Met Microsoft Teams kan je ook extern bellen. Meer nog: Teams kan jouw huidige telefooncentrale vervangen. Telefoneer goedkoop via VoIP (Voice Over IP).
Microsoft 365-startportaal
Microsoft Teams werkt naadloos samen met de andere applicaties uit het Microsoft 365-ecosysteem, zoals de Microsoft Office-tools, Dynamics, Outlook, SharePoint, To Do…
Meer lezen over Applications?
Microsoft voert een Licentie Update voor EEA en Zwitserland wegens feedback van de Europese Commissie (EC). Lees hier alles wat je moet weten!
GPT-4 technologie, maar met commercial data protection. Bing Chat Enterprise is nu beschikbaar, lees hier alles wat je moet weten!
Wat mag je als Business Central-gebruiker verwachten van de eerste grote update in 2023? We sommen het voor je op.
Benieuwd naar wat ConXioN voor jouw organisatie kan betekenen?
Meedenken met jouw business is onze core. We adviseren, implementeren en ontzorgen op vlak van IT. Samen bouwen we aan je technologische voorsprong in de markt.