Slim online meetings houden met Microsoft Teams
Slim online meetings houden met Microsoft Teams
Microsoft Teams biedt je haast ongelimiteerde mogelijkheden om je teamwerk en bijhorende meetings bijzonder productief en (tijds)efficiënt te maken. Leer ten volle gebruik te maken van al deze features en train je team op regelmatige basis deze optimaal te benutten. Je zal zien hoeveel vlotter, aangenamer en veel praktischer je kan (samen)werken. We geven je enkele tips voor een productieve online meeting: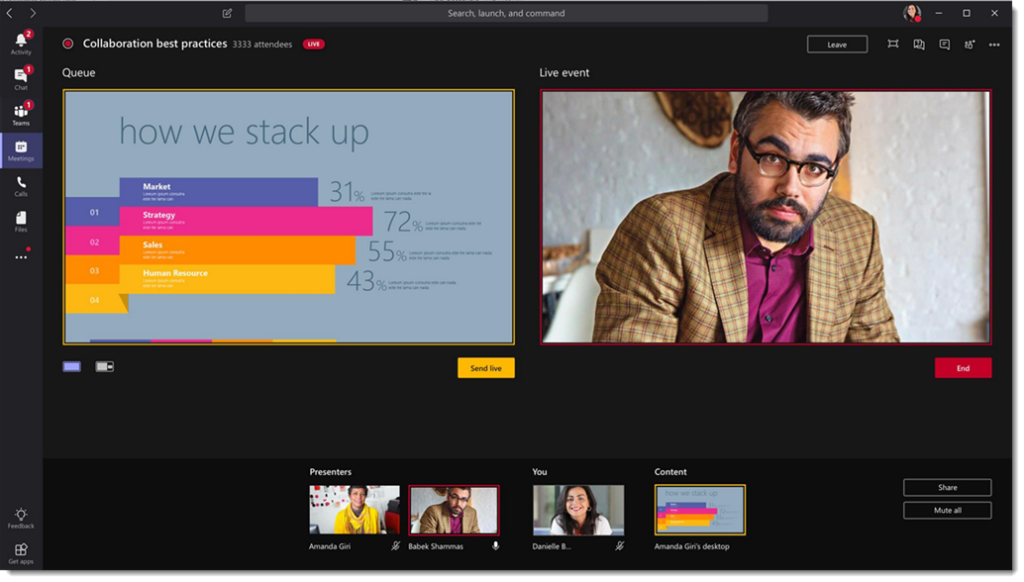 zet je camera aan voor je een 'face to face' meeting begint
gebruik de functie 'background blur' als dat nodig is. Zo wordt niemand onnodig afgeleid
sluit andere applicaties eventueel af en zet je telefoon op stil. Zo focus je je volledig op de meeting
als je dat wil, kan je eenvoudig je meeting opnemen (audio, video en screen sharing). Het kan van pas komen op een later tijdstip
 geef je tijdens de meeting een specifieke training, bestand of instructie? Deel dan je scherm. Zo kan iedereen makkelijker volgen
 multitasken tijdens een meeting kan eenvoudig. Neem bv. snel notities terwijl je je gedeeld scherm verkleint
je meeting opgenomen? Dan vind je die snel terug in Microsoft Stream
iets snel terugvinden in je opname? Gebruik dan 'Speaker Track' of zoek eenvoudig door het 'Transcript'
binnenkort komt er een nieuwe 'feature' die het je mogelijk maakt simpel taken toe te kennen binnen je team op basis van wat in de meeting werd besproken
Alle mogelijkheden ontdekken?
Schrijf je in voor een van onze sessies en kom alles te weten over Microsoft Teams!