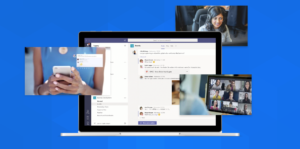 Aan de slag met Microsoft Teams
Door de huidige overheidsmaatregelen moeten we deels overschakelen naar telewerk, maar dat vraagt best veel organisatie en coördinatie. Daarom geven we deze webinar rond de mogelijkheden tot online samenwerken met Microsoft Teams.
In deze sessie leggen we je uit:
Hoe je Microsoft Teams installeert
Hoe Microsoft Teams werkt
Hoe je overleg snel en efficiënt kan regelen door chat en vergaderingen
Deze sessie is geschikt voor wie telewerk bij zijn medewerkers eenvoudig én veilig wil opzetten en toont de basisfunctionaliteiten van deze collaboratie-, communicatie- en projectsamenwerkingstool.
De volledige recording is beschikbaar op ons learning platform one.conxion.be. Registreer of log in en ontdek meer dan 300 uur aan webinars, opleidingen of sessies.
Wij stellen al onze on demand webinars gratis ter beschikking op het learning platform one.conxion.be.