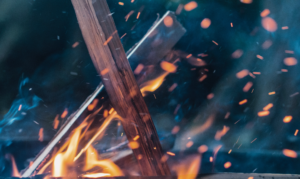 Zin om geïnspireerd te worden door boeiende expert keynotes, tasty tapas en wijn, en alles wat je nodig hebt om jouw marketingmachine in een hogere versnelling te zetten? We got you!
The Prodigy weet als geen ander dat er niets mis is om "the firestarter, the punkin' instigator" te zijn. En laat dat nu net zijn wat marketing is: een krachtige marketingstrategie kan (de groei van) jouw bedrijf een echte kickstart geven. Maar marketing in een bedrijf brengt ook heel wat uitdagingen met zich mee: hoe krijg je alle neuzen in dezelfde richting? Hoe stel je een krachtig 'tiger team' samen? Hoe benut je je tijd optimaal?
Tijdens deze inspiratiesessie bieden onze experts je alles wat je nodig hebt om de groeimotor van marketing in jouw bedrijf opnieuw vol te tanken. Dat doen ze met high-level strategische inzichten, maar ook concrete, handzame tools om dagdagelijks in te zetten. Zo zullen business strategy expertes Héléna Brutsaert en Shari Sterck je meer vertellen over hoe een future proof business & marketingstrategie (de groei van) jouw bedrijf kan boosten en waarom je daarvoor ook je sales-, HR-, finance- en IT-team inschakelt.
Vervolgens duiken we dieper het dagdagelijkse leven van een marketing- of grafisch team in en horen we van Igepa hoe de automatisatie van je (one)pagers jouw marketing-ROI kan verhogen. Daarna spreekt Igepa over de voordelen van automatisatie en toont hoe je de creatie van catalogi, prijslijsten en brochures kan digitaliseren.
Ook Adobe geeft zijn kijk op digitalisatie, automatisatie en de invloed daarvan op het marketingteam van morgen. Xiwa geeft je dan weer concrete tips zodat jij die o zo belangrijke bedrijfspresentaties naar een hoger niveau kan tillen.
Afsluiten doen we met een Technology Walk & Talk, waarbij je zelf ervaart hoe marketing en technologie het perfecte paar zijn en hoe het gebruik van data en automatisatie een differentiator kunnen zijn in jouw business.  Op het netwerkmoment met tapas en wijn krijg je tenslotte de kans om ideeën uit te wisselen met andere marketingmanagers en collega-experten.
Klaar om de boel in gang te steken?💥
Het dragen van een mondmasker is verplicht wanneer men zich verplaatst of tijdens een experience tour. 
Geef een seintje aan de eventorganisator of mail naar events@conxion.be als je een extra deelnemer wil meebrengen.
Hourly Schedule
Agenda
13.30

-

13.45

Ontvangst en verwelkoming

Door Chris Debyser, CEO ConXioN
13.45

-

14.30

Keynote Holmes & Watson

Hoe implementeer je een future proof marketingstrategie in functie van groei?
14.30

-

14.50

Keynote 1 Igepa

From database to catalog: automatisering van catalogen, prijslijsten en brochures met EasyCatalog, dé krachtige en flexibele plug-in voor Adobe Indesign
14.50

-

15.10

Keynote 2 Igepa

The road to automation: automatiseer je print workflow met Enfocus Switch
15.10

-

15.20

Coffee break
15.20

-

15.50

Trends by Adobe

Ontdek Adobe's trends voor 2022: design automatisering via A.I. driven innovatie, 3D+immersive technology voor retail en online collaboration
15.50

-

16.30

Showcase Xiwa

The return of Inspiration: next-level bedrijfspresentaties
16.30

-

17.30

Experience tour

Technology Walk & Talk + Tapas