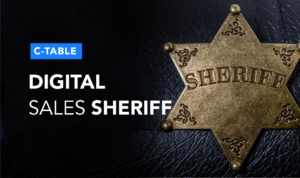 The Digital Sales Sheriff: Sales Leadership in a Digital Era
You're always hungry for more. Je wil gáán. Die next level digitale salesorganisatie bereiken en je bedrijf naar ongekende hoogten stuwen. En dat staat of valt met de juiste strategie, processen en tools. Dat weten ook de topmanagers die we uitnodigden voor dit community-event als geen ander. Ze geven je een exclusieve inkijk in hun eigen salesorganisatie en vertellen op basis van good practices hoe jij stappen kan zetten in jouw digitale salesstrategie. Ready to become a Sales Sheriff in a Digital Era?
Deze Round Table wordt ingeleid door Filip Van Tongel, CCO bij IT-dienstverlener ConXioN. Hij vertelt je de ins and outs van zijn data driven salesstrategie. Door een magic match tussen CRM-systeem Microsoft Dynamics en datavisualisatietool Power BI, wordt de sales pipeline – inclusief de marketing funnel – transparant gemaakt. Daarnaast wordt SharePoint toegelicht als digitale sales enabler en tool om de technische kennis van het salesteam hoog te houden.
Vervolgens licht Dieter Devooght, Sales Manager bij verzekeraar Dhondt Insurance, de recente reorganisatie van zijn salesorganisatie toe. Een nieuwe aanpak van de dienstverlening en de daarbij horende grote aansprakelijkheid van het salesteam tegenover hun klanten – eigen aan de verzekeringswereld – vraagt immers veel meer dan enkel de introductie van een CRM-systeem. Dieter Devooght vertelt tenslotte ook over zijn ervaringen met de organisatie van een multicultureel team.
Als derde neemt Carl Vanneste, Sales Sheriff bij producent van designmeubelen Extremis, zijn plaats op het podium in. Hij buigt zich over retailvraagstukken, eigen aan de sector, met onder andere een toelichting van de digitalisering van hun sales & marketingteam. Dit team analyseert gericht de marketingacties – over hun netwerk van verdelers heen – om het steeds beter te doen. Daarbij komt ook de digitalisatie van het salesproces aan de hand van portals en configurators aan bod.
Tenslotte geven we het woord aan Bart Maeyens, General Manager bij producent van binnen- en buitenverlichting Modular Lighting Instruments. Modular focust al meer dan 40 jaar op continuous improvement en streeft daarbij naar het perfecte huwelijk tussen sales en marketing. Hoe blijf je je salesorganisatie na al die tijd heruitvinden en verder vernieuwen? Wat zijn de lessons learned? Hoe kan marketing de perfecte lead generator zijn? Bart Maeyens zal ook zijn licht werpen op het belang van vendor policies.
Deel uitmaken van deze exclusieve Round Table voor salesmanagers en C-level? Proeven van een culinaire lunch door sterrenrestaurant Marcus én onbetaalbare insights in de salesorganisatie van 4 industry leaders? The time is now!
Hourly Schedule
Agenda
11u00

-

11u20

Ontvangst en verwelkoming

In het ConXioN Experience Center
11u20

-

11u25

Introductie

Sprekers

Kevin Couvreur
11u25

-

12u15

Sales 2.0 – What is it and how far can we go?

CCO - ConXioN

Sprekers

Filip Van Tongel
12u15

-

12u45

How to get started on Sales 2.0 – Pitfalls of a CRM implementation

Sales Manager - Dhondt Insurance

Sprekers

Dieter Devooght
12u45

-

13u15

Sales 2.0 part of a company digital project

Sales Sheriff - Extremis

Sprekers

Carl Vanneste
13u15

-

13u45

Continuous Improvement on Sales 2.0 – a 40 year trip

General Manager - Modular Lighting Instrument

Sprekers

Bart Maeyens
13u45

-

15u00

Netwerkmoment