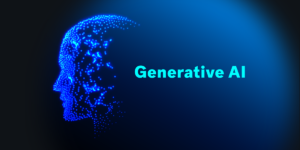 Unlocking the Potential of Generative AI: Strategies and Applications for Business Success
Stap binnen in de wereld van Generative AI, waar creativiteit en nieuwe mogelijkheden samenkomen.
Het belooft een revolutie te zijn voor jouw bedrijf, met kansen om de creativiteit te vergroten, de klantervaring te verbeteren en waardevolle inzichten te verschaffen.
Krijg inzicht in de meest recente ontwikkelingen en trends in Generative AI.

Grijp je kans om te leren van best practices en inspirerende use cases in verschillende bedrijfstakken.

Verken hoe Generative AI de zakenwereld kan transformeren.
Tijdens deze sessie laten we je ook enkele praktische tools zien die op heden al beschikbaar zijn, zodat je meteen aan de slag kunt met de mogelijkheden die Generative AI biedt.
Maar er is meer! Deze workshop biedt ook:
🍷

Verwelkoming met tapas en wijn

🤝

De gelegenheid om te netwerken met gelijkgestemde professionals en experts.

🗣️

De ruimte om ideeën en ervaringen te delen.

🤝

De mogelijkheid om nieuwe samenwerkingen te verkennen.
Dit is jouw kans om de mogelijkheden van Generative AI te verkennen en de toekomst van jouw bedrijf vorm te geven. Registreer je vandaag nog en claim je seat!
Absoluut! Schrijf je collega apart in via het registratieformulier op deze eventpagina. 
Deze sessie wordt door Progressivum aangeboden aan €400 excl. BTW.