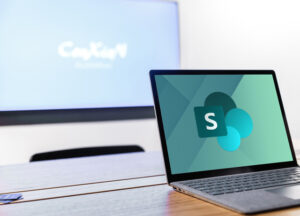 Power session: Microsoft SharePoint
Ontdek de kracht van Microsoft SharePoint! Leer hoe je hands-on een effectief SharePoint-systeem kunt opzetten tijdens onze SharePoint workshop! Tijdens deze sessie duiken we dieper in op wat Microsoft SharePoint voor jouw organisatie kan betekenen en hoe je met behulp van een uitgewerkt stramien eenvoudig een functionele SharePoint-omgeving kunt bouwen.
Verken Microsoft SharePoint: Leer alles over de mogelijkheden en werking van Microsoft SharePoint. Ontdek hoe dit platform jouw organisatie kan ondersteunen bij het beheren van documenten, het delen van informatie en het samenwerken in teams.

Introductie tot SharePoint-sites: Ga aan de slag met het bouwen van SharePoint-sites en ontdek hoe je deze kunt aanpassen aan de specifieke behoeften van jouw organisatie.

Digitaal lesmateriaal: Na afloop sturen we je alle lesmaterialen digitaal toe, zodat je het geleerde kunt blijven verkennen en toepassen in jouw SharePoint-omgeving.
Deze workshop is ideaal voor
Een IT-teamdag: Maak van jouw IT-teamdag een productieve en leerzame ervaring met onze SharePoint workshop.

IT-minded mensen: Of je nu een IT-professional bent of gewoon interesse hebt in technologie, deze workshop is geschikt voor iedereen met een affiniteit voor SharePoint en samenwerkingstools.

Interne IT-dienst: Optimaliseer de interne processen van jouw organisatie met de kennis die je tijdens deze workshop opdoet en implementeer een efficiënt SharePoint-systeem.

Voorkennis of affiniteit met SharePoint: Of je nu al ervaring hebt met SharePoint of nieuw bent met dit platform, we zorgen ervoor dat iedereen kan profiteren van deze sessie.
Ontdek wat Microsoft SharePoint kan betekenen voor jouw organisatie en hoe je jouw samenwerking en documentbeheer kunt verbeteren. Benieuwd naar de mogelijkheden? Schrijf je snel in voor deze inspirerende SharePoint workshop!
Absoluut! Schrijf je collega apart in via het registratieformulier op deze eventpagina. 
ConXioN biedt deze workshop aan aan €150 pp excl. btw.