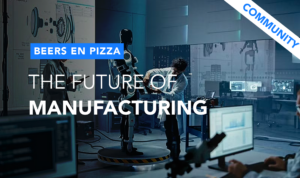 Workshop: The Future of Manufacturing
Vraag jij je af hoe je het grote tekort aan werkkrachten kan aanpakken? Hoe je competitief kan blijven in een markt waar de loon-grondstoffen en energiekosten exponentieel stijgen? Hoe je efficiënter en kwalitatiever tewerk kan gaan? Hoe automatisering je hierbij kan helpen?
Technologiepartners Keyence, Stäubli, Vintecc, ConXioN en VINTIV inspireren je in het wat en hoe van machinevisie, robotica, machinebouw en digitalisering. Dat doen ze aan de hand van een concrete case en live demo's. De sterke evoluties in deze domeinen laten immers toe om verder te automatiseren waar dat vroeger onmogelijk of ondenkbaar was, zeker in omgevingen vol variatie en flexibiliteit. Door deze evoluties te koppelen aan machineontwikkeling op maat, kan je als maakbedrijf gigantische stappen zetten in efficiëntie en kwaliteitsverbetering.
Heeft jouw organisatie hier een doorgedreven, unieke visie op die je graag wil delen met je collega-experts? Of willen jullie graag jullie eerste stappen zetten en breken jullie er je volop het hoofd over? We nodigen je graag uit op onze informele workshop om samen aan de slag te gaan, samen slimmer te worden en elkaar te challengen.
Let's discuss it over beers and pizza!
Random Bin Picking
Smart sensors
3D inline inspection
Platform demo: beheer van de slimme industriële oplossingen van morgen
Deel uitmaken van dit community event voor productie- en maakbedrijven? Proeven van cheesy pizza's, een fris pilsje én onbetaalbare insights in The Future of Manufacturing? The time is now. Let's go the extra mile, together!
Schrijf je in via het formulier onder de video.
Absoluut! Schrijf je collega apart in via het registratieformulier op deze eventpagina. 
De reeks Beers&Pizza Workshops wordt gratis aangeboden door ConXioN. Je hoeft je enkel op voorhand in te schrijven op deze eventpagina.
Hourly Schedule
Agenda
18u00

-

18u10

Aankomst en verwelkoming
18u10

-

18u15

Introductie Beers & Pizza workshop

Sprekers

Kevin Couvreur
18u15

-

19u00

The Future of Manufacturing

Case
19u00

-

20u00

The Future of Manufacturing

Demo
20u00

-

21u00

Netwerkmoment

Met beers & pizza 🍕🍺