Eyes on 2022+: Microsofts visie en trends
Eyes on 2022+: Microsofts visie en trends
Een sterke visie ligt aan de basis van iedere succesvolle onderneming. We nodigden techgigant Microsoft uit in het ConXioN Experience Center om een duik te nemen in hun visie voor 2022 – and far beyond. Didier Ongena, Managing Director Microsoft Belux, trakteerde ons tijdens de Round Table 'Eyes on 2022+: Microsofts visie en trends' op heel wat inzichten. Waar ligt Microsoft van wakker? Wat zal hot and happening zijn voor de gebruiker? Aan welke trends mogen bedrijven zich de komende jaren verwachten? We sommen enkele takeaways van de sessie voor je op, en laten Didier Ongena vooral zelf aan het woord.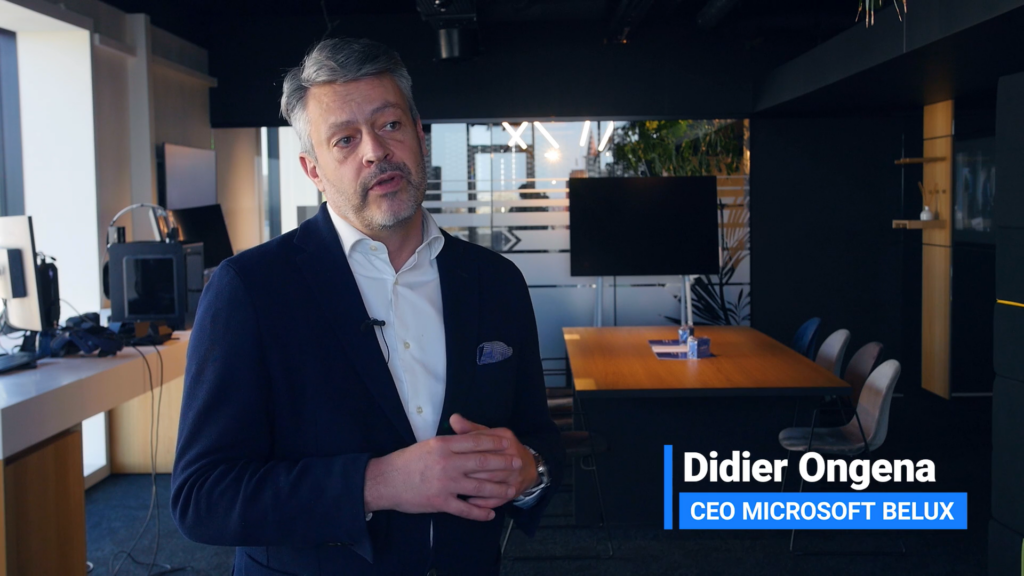 Als onderneming gelooft Microsoft zeer sterk in de kracht van technologie om ondernemingen te ondersteunen én grote maatschappelijke thema's te helpen oplossen (waaronder de circulaire economie). Dat vatten ze mooi samen onder de term 'digital optimism'. En daar haken ze ook hun missie mooi aan vast: 'Empower every person and every organization on the planet to achieve more.'
Want zoals CEO Satya Nadella het recent zei: de missie van Microsoft is nooit relevanter óf dringender geweest: vandaag en doorheen verschillende crisissen blijkt immers dat bedrijven die digitaal zijn en hun bedrijfsprocessen digitaliseren weerbaarder zijn. Ongena dringt er dan ook op aan dat bedrijven ervoor zorgen dat ze zélf digitale mogelijkheden of 'digital sovereignty' opbouwen. Daarbij is het belangrijk dat ze stilstaan bij welke capaciteiten ze in house opbouwen en nadenken over welke platformen ze gebruiken om hun markt en klanten te bereiken. En dat is ook wat Microsoft wil doen: technologieën aanbieden waar je als bedrijf kan op verder bouwen.
Indien je de term 'metaverse' nog niet hoorde, dan verwelkomen we je graag in het jaar 2022. The metaverse is immers overal, en Didier Ongena licht graag toe wat dat betekent voor de gebruiker.
De cloud is o zo belangrijk. Dat benadrukt Microsoft opnieuw en opnieuw. En de 60 Azure-regio's met 200 datacenters onderstrepen deze prioriteit voor Microsoft. De voorbije jaren werd de Microsoft Cloud gere-engineered om tot een platform te komen waarin de verschillende lagen elkaar sterker maken. Aan de basis: de Azure-structuur met security, privacy, compliance, identity management, PaaS-services… Daarbovenop de datalaag die onderliggend Microsoft 365 en Dynamics 365 aanstuurt (Dataverse en Graph). Daar nog eens boven vind je de developertools. Deze re-engineering maakte de bouw van industry clouds, zoals Cloud for Retail of Cloud for Sustainability. Dit creëert natuurlijk heel wat nieuwe mogelijkheden voor het volgende hoofdstuk voor jouw onderneming: een veilig hoofdstuk in de cloud.
Data privacy en securitytrends in 2022
In 2025 zal er wereldwijd maar liefst 175 zettabyte data circuleren. Het spreekt dan ook voor zich dat data privacy en security een grotere rol dan ooit zullen spelen.
Microsofts prioriteiten voor 2022
Afsluiten doen we met een mooie uitsmijter: waar zal Microsoft zich in 2022 hoofdzakelijk op focussen?
ConXioN's community-events
Op onze community-events brengt ConXioN experts uit hetzelfde domein samen. We geven professionals een platform om de community een boost te geven, nieuwe inzichten te verstrekken of de discussie op te starten. Als professional ben je meer dan welkom om die discussie te helpen voeren – en we weten als geen ander dat dat beter lukt bij een hapje en drankje. 😉
Sluit je graag aan bij het volgende community-event? Houd dan zeker onze events in de gaten, of volg ons op sociale media om als eerste op de hoogte te zijn!
Deze exclusieve sessie herbekijken?
Op ons ConXioN One-platform beheer je zelf je licenties, wissel je kennis uit met collega-experts én vind je meer dan 50 uur aan videomateriaal, waaronder de recording van Didier Ongena's sessie.